Today, I made some great food, if I do say so myself. And I thought, "There might be someone out there who would think this was yummy", so I'm sharing a couple of recipes from what I made.
I have been reading this book by Mariel Hemingway - that I mentioned earlier this week. In it, she gives a recipe for a protein frapuccino that is super good. I made a twist with it by adding chocolate and cinnamon, and thought you might like it as well:
Mexican Chocolate Frapuccino
1 Cup cold decaf coffee (I used leftover from the morning pot)
1 T chocolate powder (I used dark chocolate powder)
1 tsp cinnamon
1T agave nectar (You could use sugar, honey, stevia or other sweetener if you want)
1 heaping scoopful of protein powder (I used vanilla whey protein powder)
2 large handfuls of ice
1/4 C cream
I put all ingredients except cream in the blender. Thanks to my mother, I have this incredible Vita-Mix blender that works amazingly well with everything. After everything is blended, add the cream and blend for a few short bursts. If you blend too long, the cream will get lumpy and begin to turn to butter - not so tasty. Pour into a glass and enjoy your very inexpensive coffee treat - which has protein to boot!
I tried some Truffle Tater Tots at a restaurant recently - which of course they charged an arm and leg for. I thought - wow, I could do this at home for a fraction of the cost. True, the white truffle oil isn't cheap - I spent $10 for my bottle, but when the dish at the restaurant came in at $7 a pop, I will more than pay for the bottle with a few times cooking this dish. I had not tried truffle oil yet, and must admit to being just a little frightened. I don't care much for mushrooms, so truffles did not thrill me- except if they have chocolate inside... I was really quite surprised at how much I enjoyed the deep, smoky flavor. It was mesmerizing, actually. I found a good bottle (not great, I am sure) of the oil in my local grocery store. I'm sure a simple search would bring up a much better bottle - perhaps at Whole Foods or a specialty shop.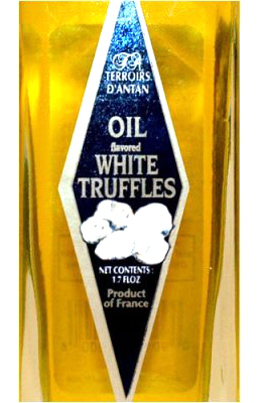 White Truffle Potatoes
2 lbs russet or yukon gold potatoes, scrubbed and cut in chunks
Preheat oven to 425 F.
Put potatoes in baking dish and drizzle with olive oil, salt and garlic (either powder or minced). Cover and put in oven. Stir every 15 minutes until getting crispy and browned. When done to your liking, sprinkle approximately 2 T of white truffle oil all over the potatoes. Then, if you like, sprinkle parmesean cheese (we used Kasseri goat cheese) over the top. Once the cheese has melted a bit, transfer the potatoes to a baking dish and serve.
Oh soooooo good.
Let me know what you think, if you make either of these.